Specification for this product family
| | |
| --- | --- |
| Brand Name | Nano Gel Tape |
| Colour | White |
| Item Shape | round |
| Material | Silicone |
| Thickness | 30 mm |
🔥HANG ALL HEAVY STUFF ON ANY SURFACE WITH NANO MAGIC TAPE
⚡️Limited stock available - get yours today!
Nano Tape is a waterproof adhesive tape with abrasion resistance and varied functionality. Also called Nano Magic Tape, this is hand tearable tape made from nano silica gel and can be easily removed for most surfaces while leaving no marks. 
One of the best things about Nano Tape is its versatility. It is very useful in your home for sticking items to walls, fixing devices to surfaces, or organizing cables. Get some Nano Magic Tape and you will be able to stick anything securely and without causing surface damage!
This Nano Magic Tape can be used wherever you want! 
This may be the BEST tape you've used due to its outstanding adhesiveness & great waterproof ability! 
Never make any holes in your wall!! 
Nano Magic Tape can be fully used in various ways which adopt nanotechnology. It is more convenient than the traditional ways to attach things on the wall and floor. Besides, This Nano Magic Tape can be washed many times so that it can be reused.
NEW TAPE : Our double sided carpet tapes made from PU gel, with durable, double-sided self adhesive, transparent,no residue,removable and washable feature will not leave any traces on the wall or any surface. anti-slip.
FUNCTION:

 

Perfect for kitchen household industrial use ,like car mount, poster, picture frame, pen holder, wall sticker, hook, small tools, sticky pads, phone case, patches, decorative patches, wall decor, solar lights, step lights, deck lights.
DESIGN :These traceless grip tapes made from nano pu gel, durable, double-sided adhesive, transparent, will not leave traces on the wall or any surface. Anti slip ,can be cut, washable, reusable.
MULTI-FUNCTION USING:Transparent sticker can being used for wall, ground,doors and windows, it can also be used in home, office, car , wardrobe, tabletop, bathroom, and so on. Please ensure that the surface is clean, no holes and no dust before use to ensure good paste effect, ideal for home storage, great companion for work and life. Highly recommended.
ABOUT PRODUCT
⭐The  Tape is a 5 Meter / 16.5 Foot roll of Gel Pad Grip Tape 
⭐Is easily cut to any size! Making it the best Gel Pad solution on the market! 
⭐It is easily removable and will not damage your walls or surfaces! 
⭐Washable and Infinitely reusable! 
Specification
⭐With a width of 3cm (1.2 Inch) and the ability to be cut to any length, The  Tape is perfect for any job! 
⭐One roll is the equivalent of approximately 71 Standard sized Gel / Nano Pads! How is that for value for money! 
⭐Can hold items up to 1 KG (2.2 LBS) on smooth surfaces* 
⭐With a 3mm (0.12 Inch) deep core, The  Tape will stick to almost any smooth, clean and non-porous surface and stay there! 
⭐Will work in perfectly in a temperature range from -16C (0F) or above 62C (150F) 
⭐Non-Toxic, Recyclable and Eco-Friendly - The  Tape is safe and Non-Toxic and when you're done with it, it can easily be recycled
⭐Made from our own  Gel Formula and specifications which we believe makes it the best Value, Best Quality and Best Overall Solution for all your Gel Pad needs. 
NANO ADHESIVE TAPE FEATURES
Wall adhesive tape that can hold large items on walls.
Transparent tape that is invisible on surfaces.

Easy to adjust the length.

No effect to the environment.

Nano wall adhesive tape can be washed and reused.
When removed the nano magic tape leaves no visible marks.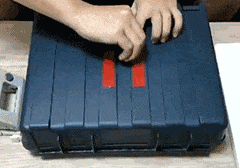 EASY TO REMOVE
Nano tape works on many surfaces: woods, metals, ceramic, marble, glass etc.
Removing nano adhesive tape is easy. Simply take a corner and slowly pull away from the surface. Doing this allows the tape to easily leave the wall and cause no visible damage!
Traceless washable adhesive tape is also reusable and can be washed by running it under warm water and lightly removing dirt.
WASHABLE & REUSABLE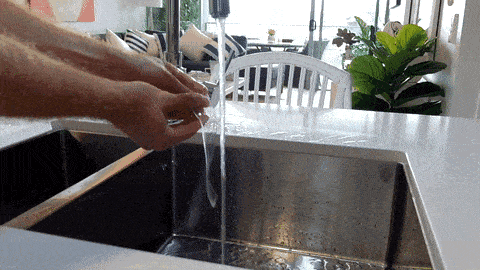 BENEFITS OF NANOTAPE
People love using gel tape in their homes and Nano Magic Tape reviews point to the many benefits of the product:
Firm and Sticky: Wall adhesive tape is a super-strong double-sided gel sticky tape that lasts significantly longer than traditional removable tape. 
Washable and Reusable: Gel grip tape is a much more economical option that normal double-sided tape because it is washable when it gets dirty and also reusable.
Easy to Cut: People who use transparent tape made from nano-silica value its convenience. It is easy to cut in any length with your teeth. Amazingly, it still manages to be extremely strong and hold items to walls.
Environmentally Friendly: Nano tape made from nano gel silica is completely environmentally friendly because of its non-toxic composition.                             
In order to get rid of the troubles caused by the hook, we found a nanomaterial that does not damage the attached surface and has ultra-high viscosity. Our Magic Gel Grip Tape is very easy to remove without damaging your walls or surfaces. This grip tape is a wonderful supply to have on hand to adhere to those embellishments that just don't stick with other adhesives.
Through new nanotechnology and adaptable material, this magic grip tape holds well on all surfaces. It can hold up to 1 kg (2.2 lbs) on a smooth surface so that you can arbitrarily paste anything, such as cell phones, keys, pens, decorations, wall hangings, kitchen tools, and etc. Get creative and change your home and living lifestyle with our magic grip tape, the best tape you'll ever buy!
3  It is 3m double sided tape and is easily removable and will not damage your walls or surfaces.
4. Double-sided adhesive and washable and reusable.
5. Enjoy your favourite videos anytime anywhere.
6. Keep items in place without slipping.
multi-functional - perfect for kitchen household, industrial use like car mount, poster, picture frame, pen holder, wall sticker, hook, small tools, sticky pads, phone case, patches, decorative patches, wall decor, solar lights, step lights, deck lights,adhesive tape is used in medical field also.
cut to your desired length - easily cut to any size and any length you want
suitable - can be applied on any clean smooth surfaces like walls, hard floor, window, wardrobe plastics, glasses and more
it can be used in any area such as home, office, cars, school, arts, crafts, rug, carpets, mats stopping, furniture and other crafting organization applications
durable and transparent double-sided tape
this grip tape 

will not leave traces on the wall or any surface

very 

easy to remove and clean

double sided adhesive tape useful for walls also
Material: PU gel
Sizes: 1 meter, 3 meters, 5 meters
Package includes: 1 x magic grip tape
Top Customer Reviews
 Frequently Asked Questions
Question1 : Will it stick to painted wall?
Answer     :  Yes.it get easily stick to painted wall.
Question2: Could I use it to hangshower curtain rod?
Answer   : Yes, nano tape can be used to hang shower curtain rod.
Question 3:Hi,can I use it to stick an address plaque on the siding o my home                               outdoors?
Answer     :  I would say yes. I used it to hang a decorative piece to my brick house                         months ago and it hasn't budged.
Question 4: What is the Shipping Time?
 Answer      : It is within 2 to 5 days. Order processing time is 24-48 hours.
 Question 5: Is Cash on Delivery Available
Answer      : Yes,  Cash on Delivery is always available.

Question 6:      Return Policy?
Answer:           Refund not available under non satisfied condition as the product is                               tape